AHS Electrathon

Titusville Florida

May 5, 2007

We were back to the BCC parking lot and a temporary oval.  It was enlarged compared to our race here last November.  The track measured around 1/3 mile.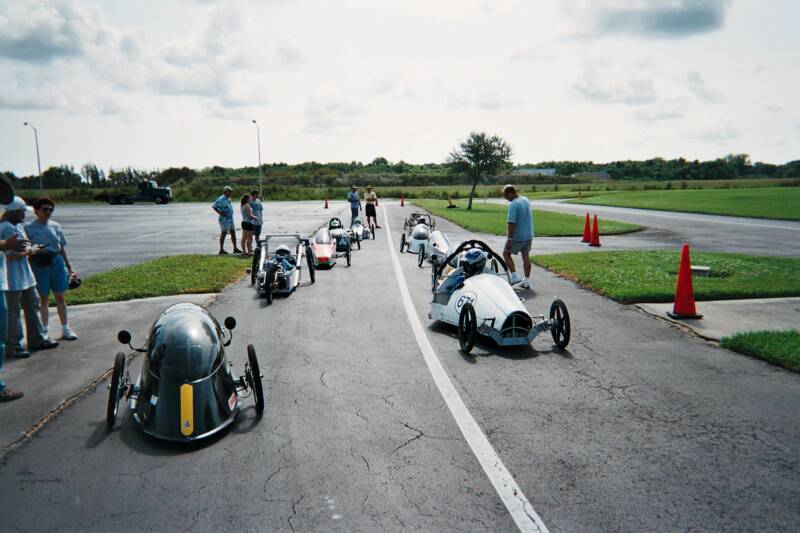 Race 1 prepares to go green with Milton High's Tiffany Miller on the pole in the #00, and the Jacksonville Explorer group #671 alongside, driven by Andrew May.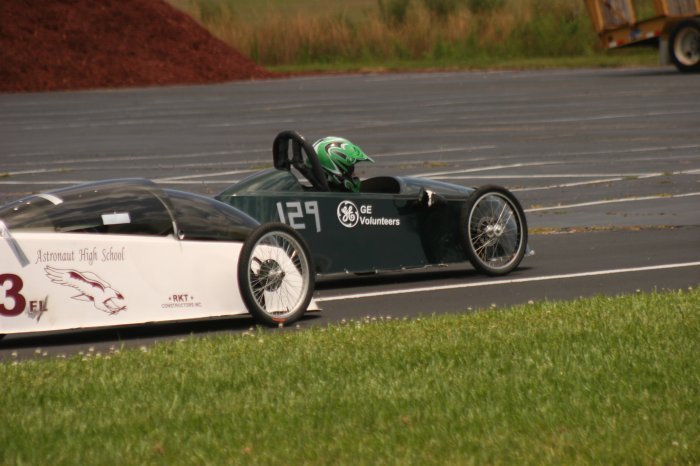 Ft. Meyers High returned with veteran drivers Kathleen Schooley and Paul Roach.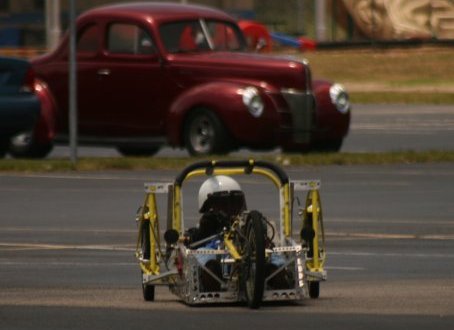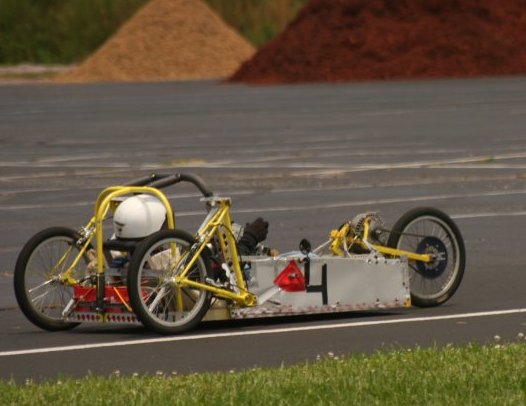 Rodney Schreck was steady and fast all day.  He ended up third overall. 

Watch out next time.....Rodney hints that he may return with his winning silver car that has been in mothballs for a few years.

Rookie driver A.J. Schang droive the Milton H.S. # 03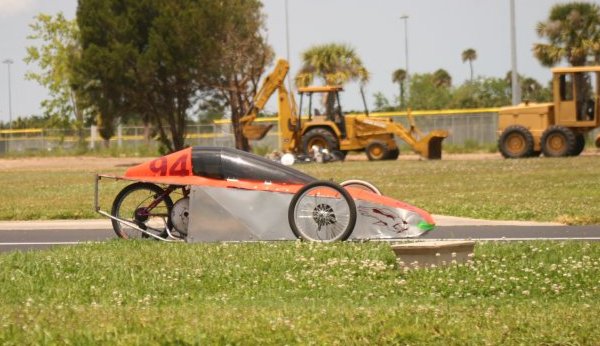 Here is Robin Hollinger in the Astronaut H.S. # 94.  Robin is a junior at the cross town rival school, Titusville HIgh.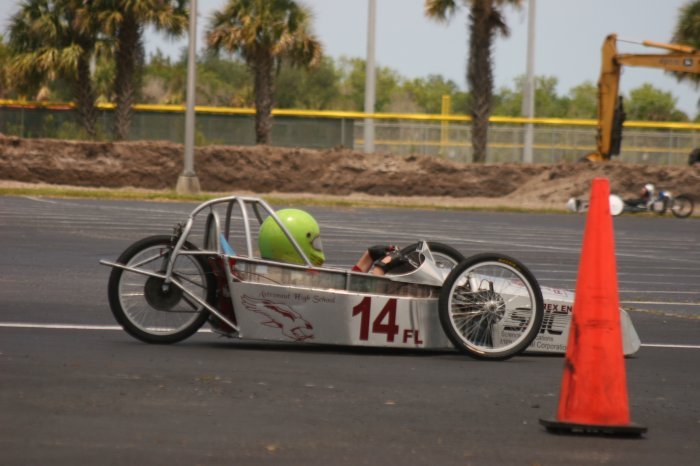 Josh Skorude did a great job in the Indy car inspired # 14 from Astronaut H.S.  Josh never climbed into the car until 3 days before the event!

Mike Frederick drove the Tampa Tech # 80.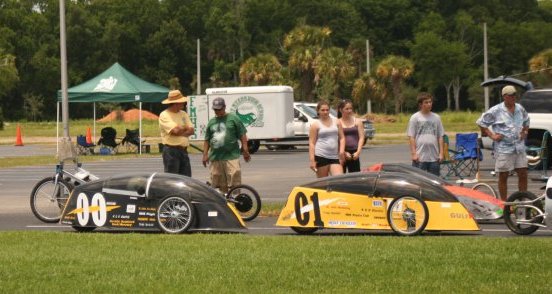 The one-two punch from Milton H.S., Tiffany Miller and Bobby Kitchens.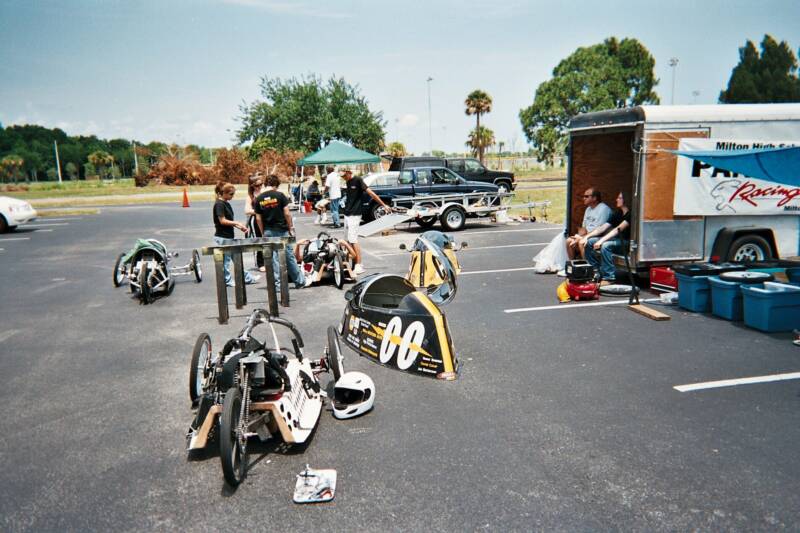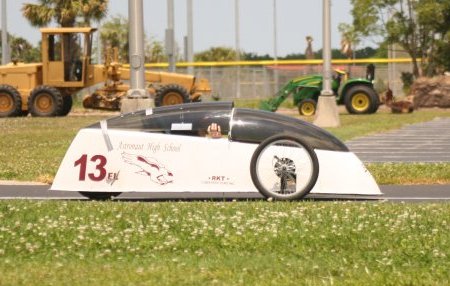 Astronaut H.S. veteran driver Michael Holmes drove the old reliable # 13.  In this shot, MIchael was having a canopy crises, and can be seen holding it in place.  That is not easy, this car takes two hands to drive!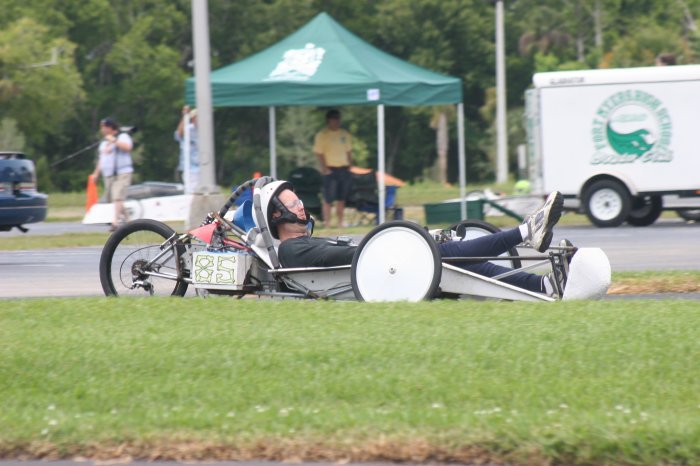 Lance Barlow works the cramps out of his "steering leg"

Two of the Milton H.S. cars take the checkered flag in race # 2.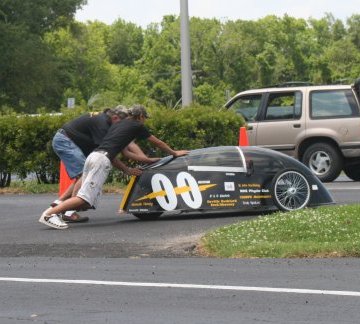 Tiffany Miller won the first race, but her car had a battery problem near the start of race # 2.  She recovered to finish 5'th in the race and 2'nd overall on the day.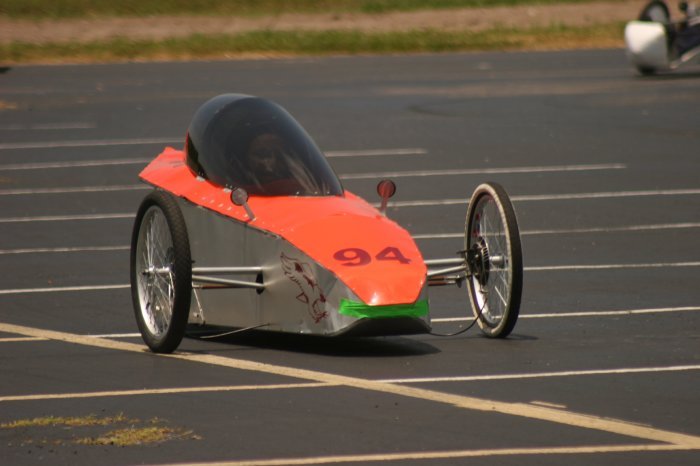 Robin stayed out of trouble on the track all day, but had mechanical gremlins that put her out of race # 1.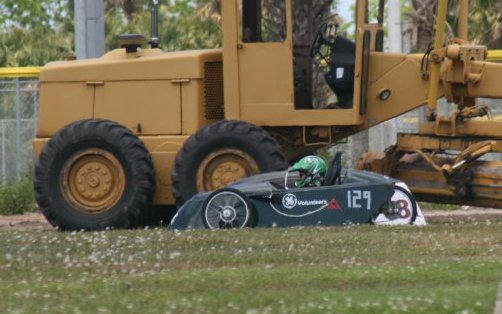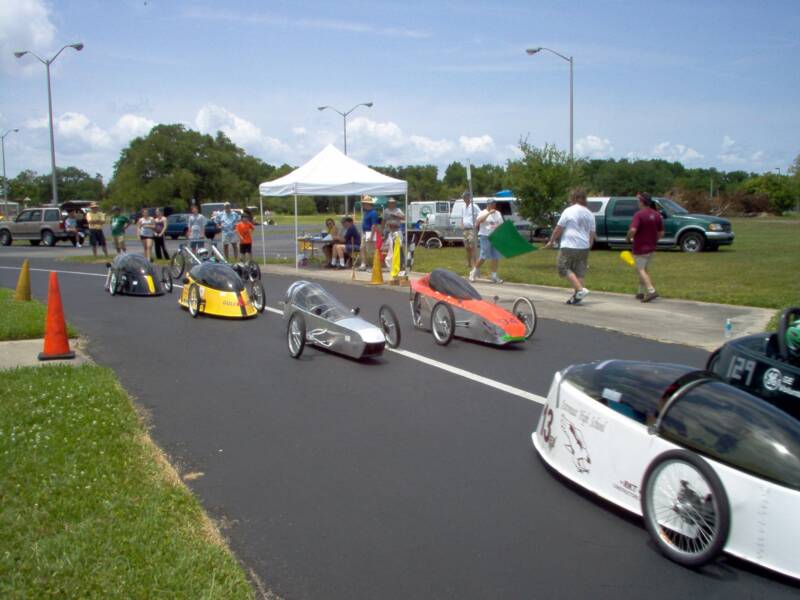 Race # 2 prepares to go green.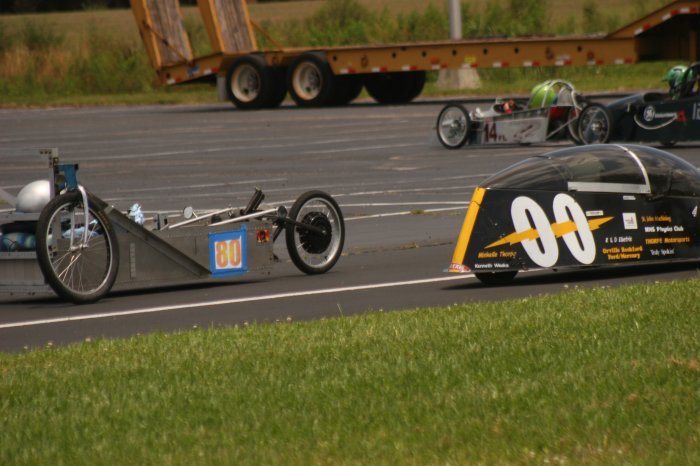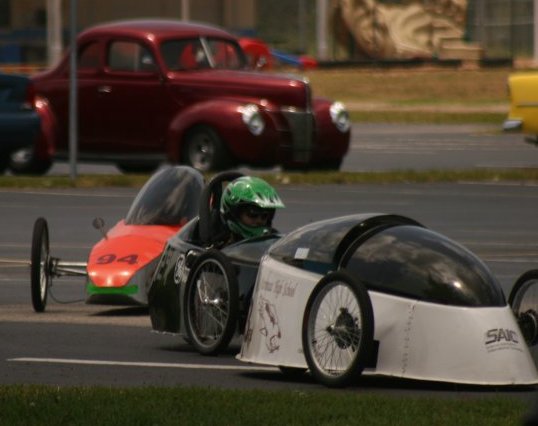 Paul Roach drove the green 129 in race # 2.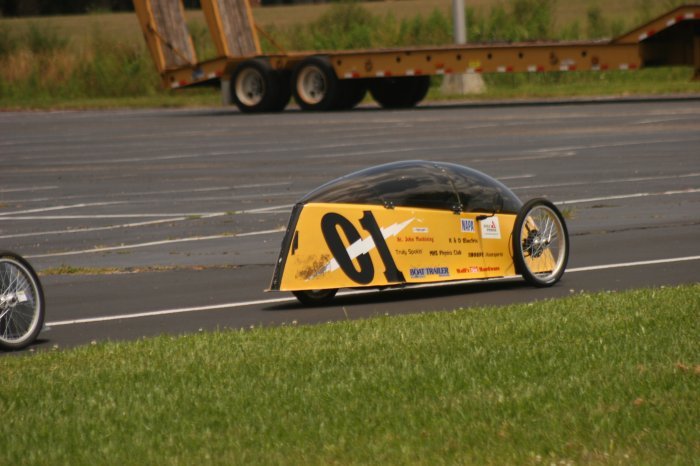 Bobby Kitchens took over the controls of the Milton H.S. 01.  He was involved in a multi car melee in race 1, but ran steady and fast in race 2 where he ended up second.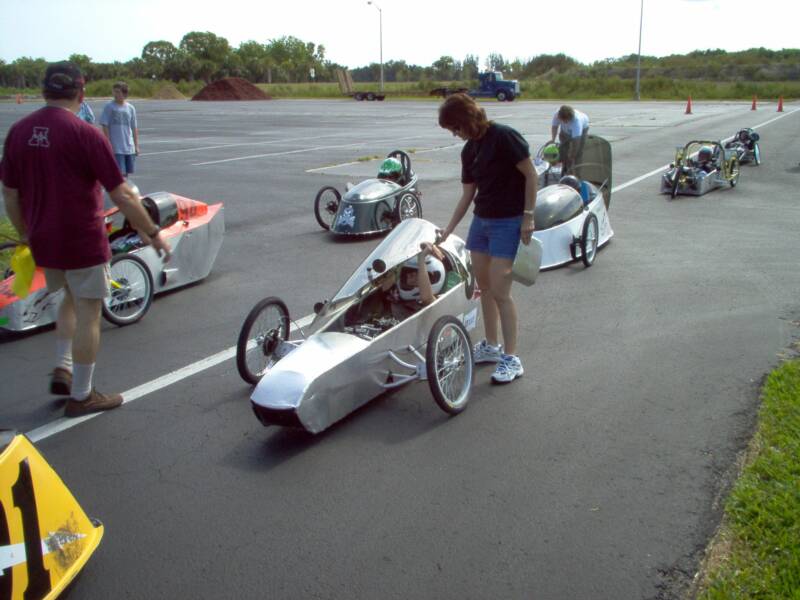 A.J. is the son of Electrathon board member, and MIlton H.S. team leader, Art Schang.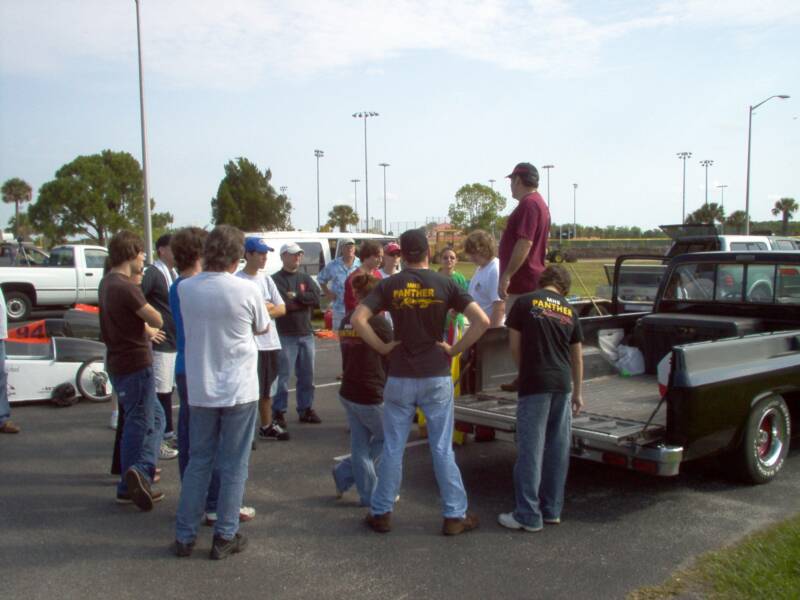 Event chairman Jim Robinson prepares to present the awards to the 11 competitors.

I need pictures of the Jacksonville Explorer car, #671!!  If you have any, please email them to me so we can include them on this page!

Their car ran in the first race, but the photographer only got pictures of race # 2.

Sorry about that Jacksonville!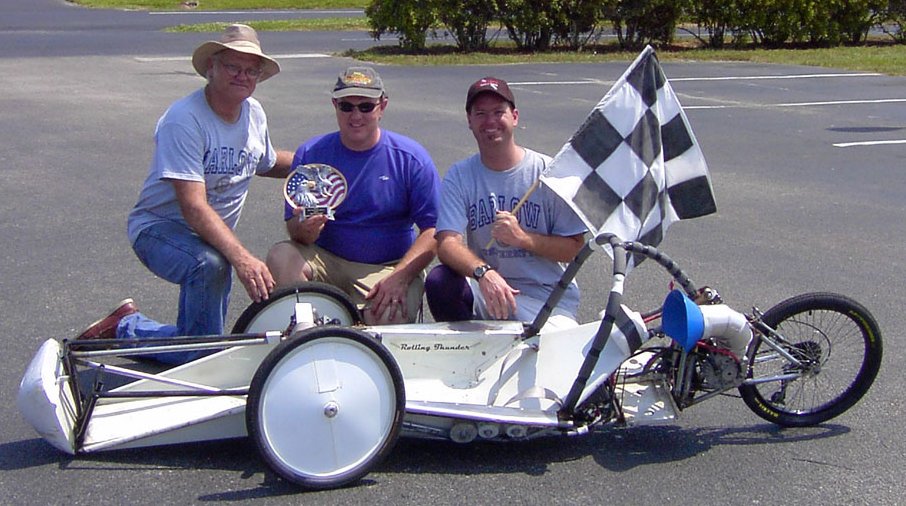 At the end of the day, it was team Rolling Thunder, # 85 who picked up enough points from a third place, and a win in race 2, to become the over champs of the day.  For a look at all the winners, check out the
winners gallery.