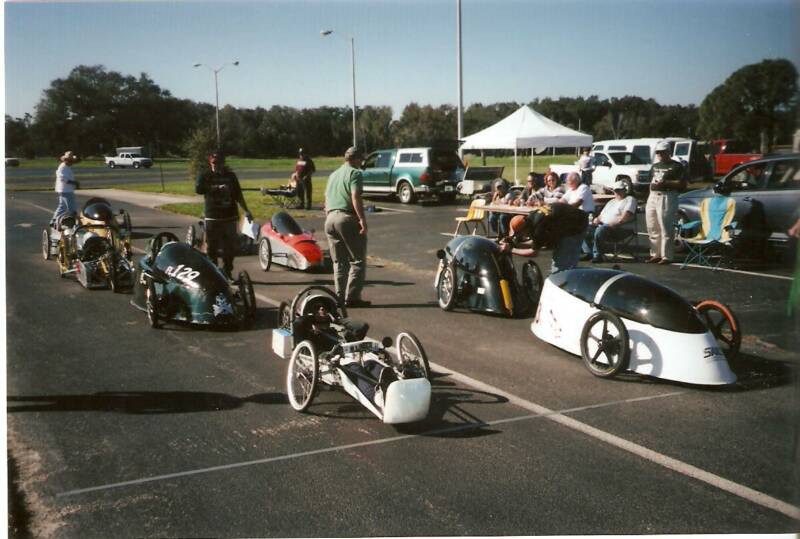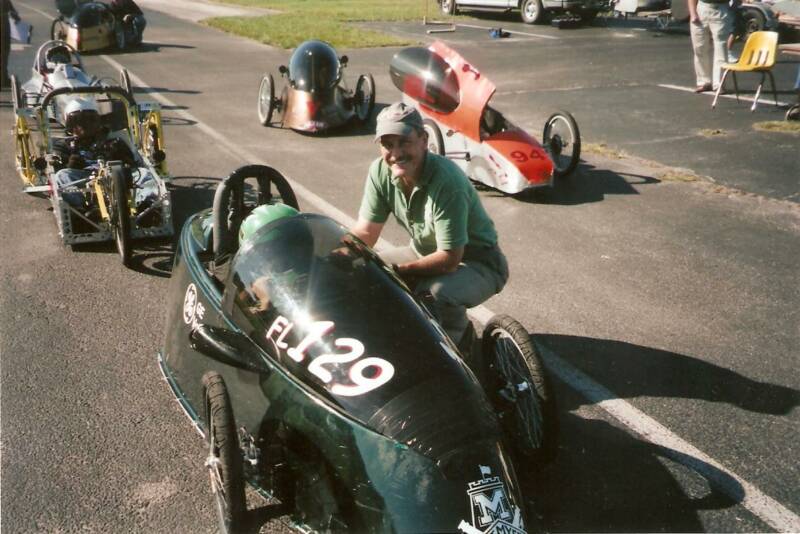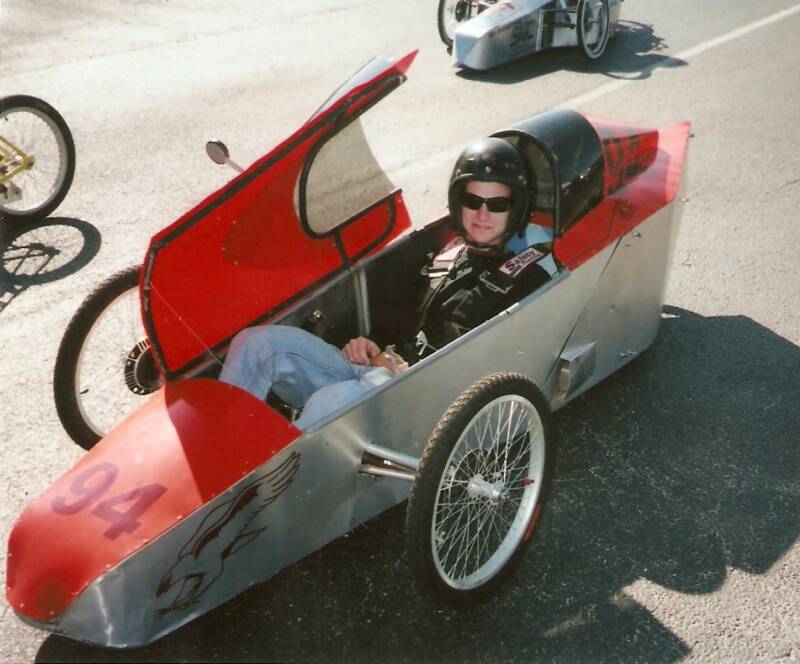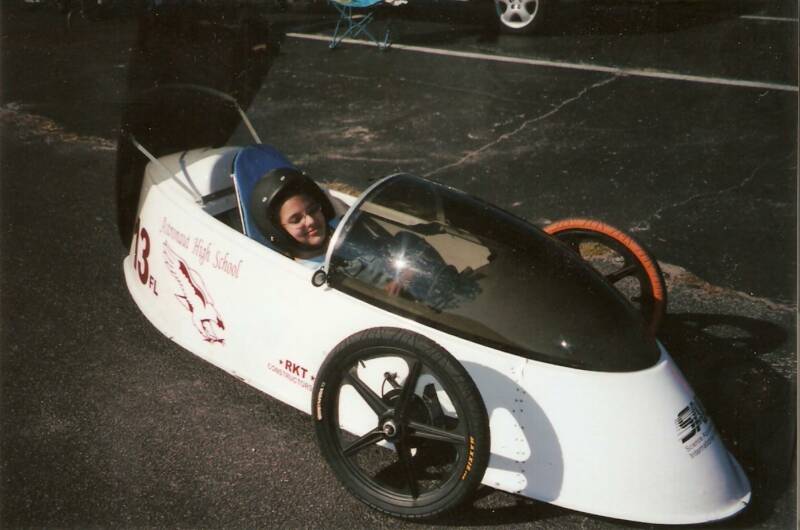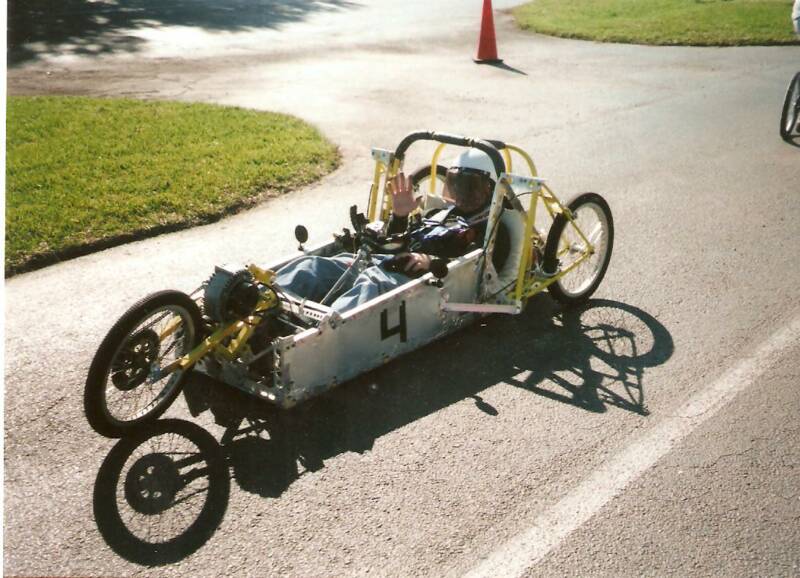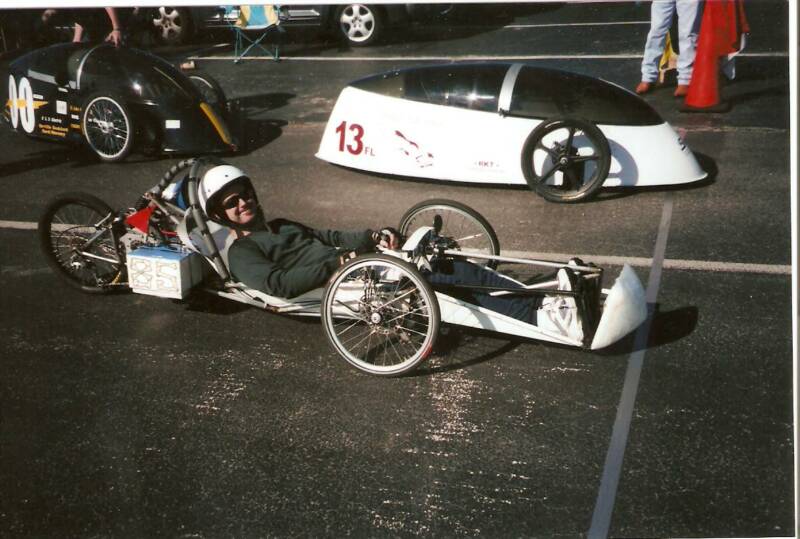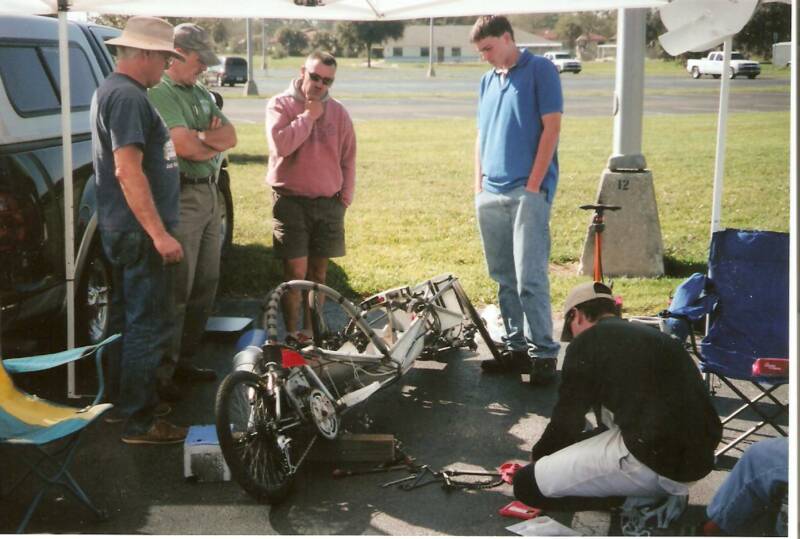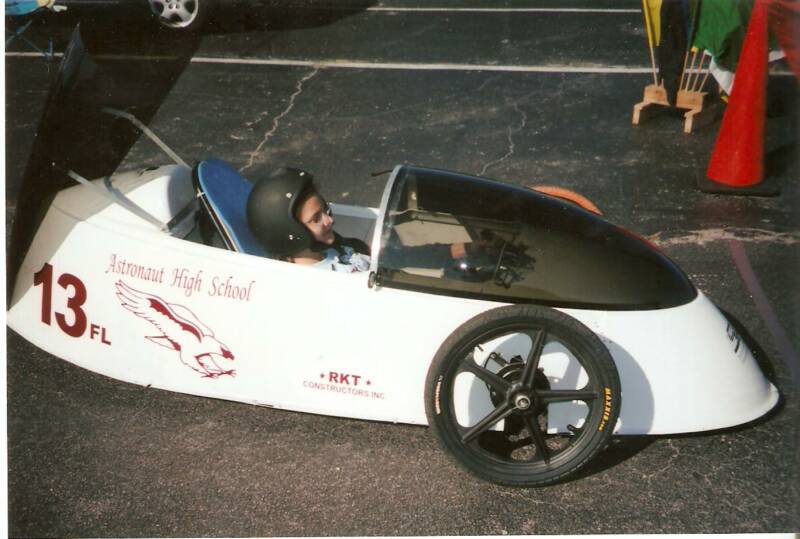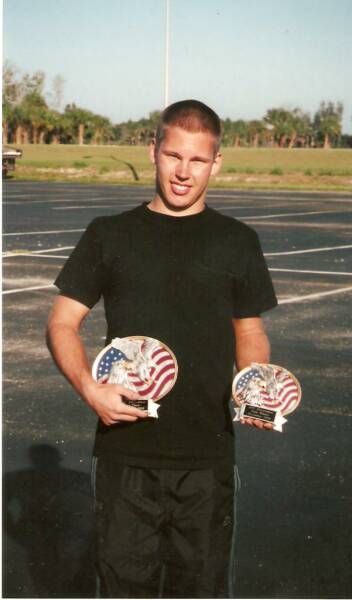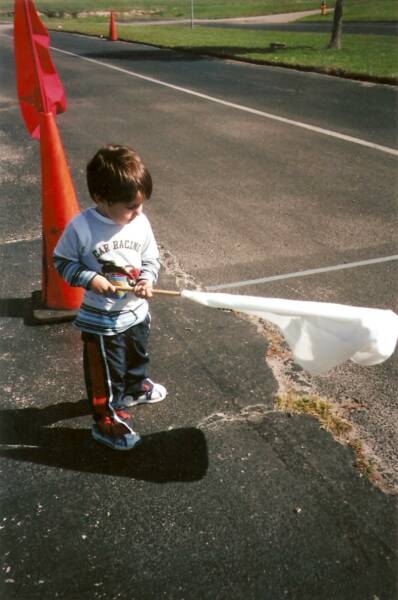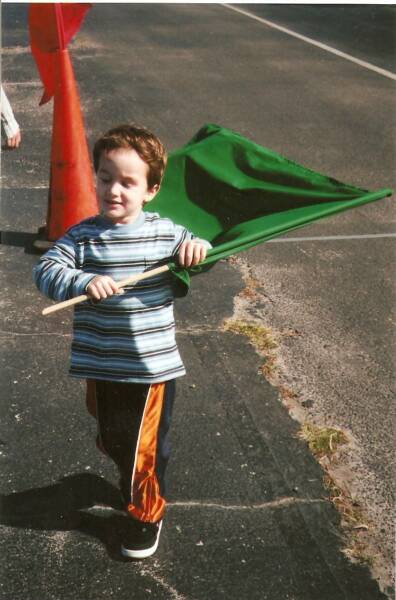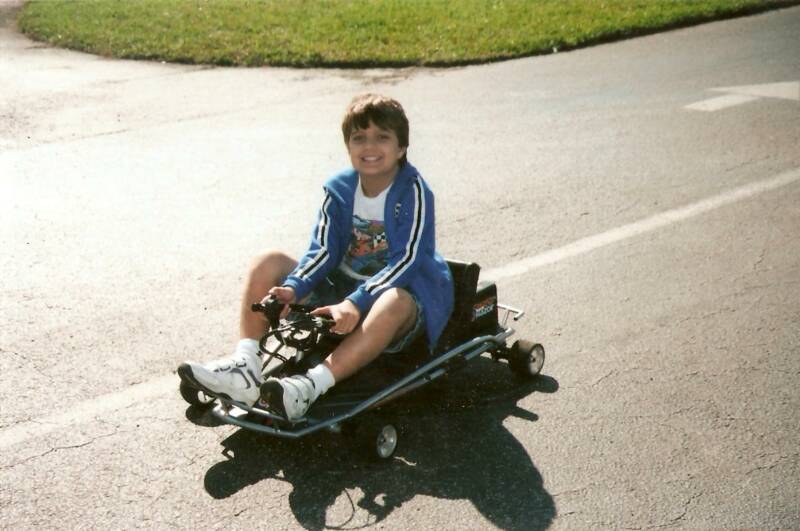 November 18, 2006

  It was a great day of racing in Titusville!.  We had perfect, cool weather, clear skies and a ten car field.

  Our track today was laid out in a parking lot.  It was more of a irregular rectangal than an oval, since it had four distict and different corners.  For some reason, this track produced excellent best races.  It seemed like the drivers were always in traffic: passing, repassing, being passed by others.  This was no boring speed run!

  Once again we ran the dual race format, which features two races, each an hour long.  The overall winner of the day is the team that has the highest average finish in both events.

The team from Ft. Meyers High School made the long trip to Titusville, and ran strong all day.  Hunter Preston drove the car to second place in the first race, and Kathleen Schooley drove it in the second.

Astronaut High School student Michael Holmes kept the #94 out of trouble all day.

Titusville High's Robin Hollinger made her Electrathon debut in the Astronaut HS #13.  Robin was steady and fast, finishing 5'th in her first race.

Hialeah's Rodney Schreck ended up second overall at the end of the day.  Rodney's car ran great in both races, and finished third in each one.

Here is a look at the brand new car from Miami.  The "Rolling Thunder" #85 ran well in the first heat, but had a few problems near the end and pulled out.  In the second race, driver Lance Barlow ran near the front before taking over the lead around the 40 minute mark. From there, he was untouched and scored a convincing win. It was a great day for this new team, and for Lance who was driving in his first Electrathon event.

There was a meeting of minds going on in the #85 pit area. This car steers by rolling the body.  It is an unusual, but effective, approach that is unique so far in Florida Electrathon.

Robin had another good run going in the second heat, when the center of the right front wheel broke off.  Dana Barlow and Jim Robinson did some extra quick pit work to get the #13 back on track.

Here is a look at the overall winner!  Kevin Farmer from Milton High won the day by winning the first heat, and finishing second in the next race.  Kevin drove the potent, yellow #01.  Congratulations to Kevin, Art Schang and all the Milton HS team for another great effort!

The young fans had some fun too!

Future Electrathon driver Michael Hollinger took a few laps during intermission!

The field lines up for race #2.  Robin Hollinger and Lance Barlow made up the first row.

  I NEED MORE PICTURES!

SEND 'EM IF YOU'VE GOT 'EM!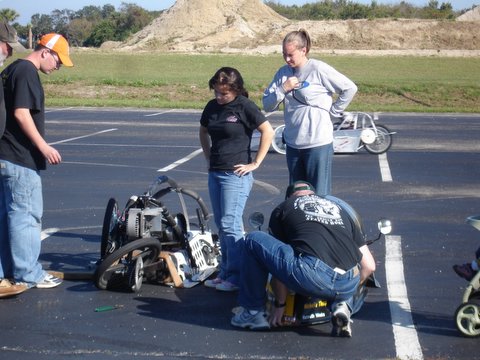 It is hard to spin out an Electrathon car, but Tiffany Miller managed it in the second race.  She was running with the leaders when the center broke out of the rear wheel, which sent her car into a wild spin.  Here she surveys the damage...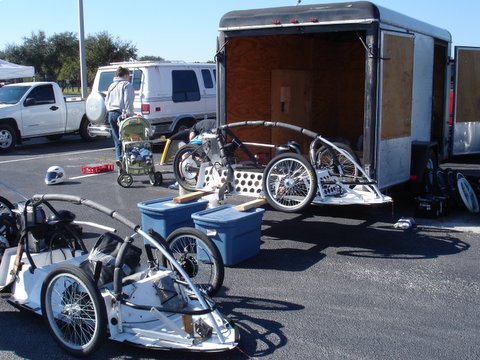 The Milton HS Aero Coupes during race preparation.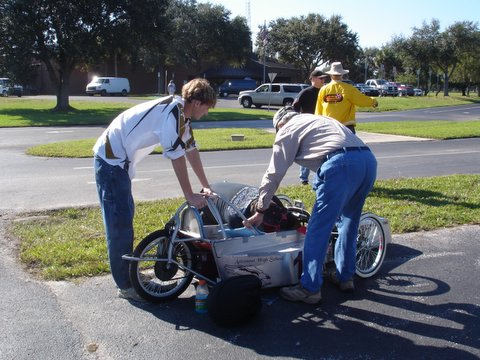 Nick Smythe checks over the THS #14 that he would pilot to 5'th place overall.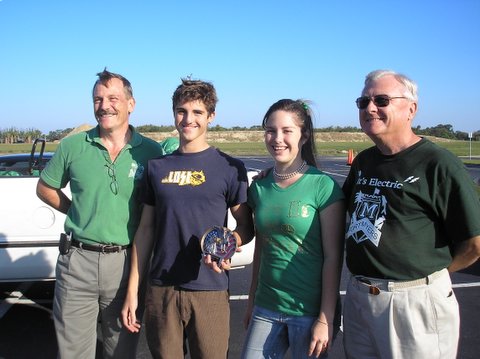 The Ft. Meyers HS #129 was driven by Hunter Preston and Kathleen Schooley.  They had a good day and finished in a tie for third.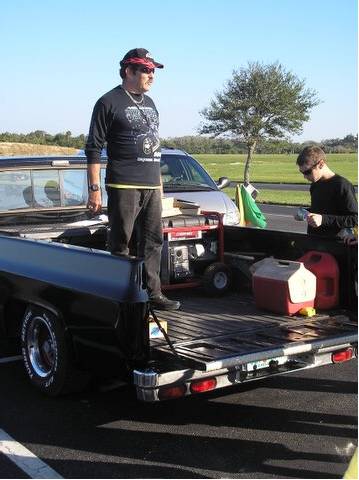 Race director Jim Robinson prepares to hand out the hardware after another successful race day!

RACE 1

1  01 FARMER

2 129 PRESTON

3 4 SCHRECK

4 00 MILLER

5 13 HOLLINGER

6 14 SMYTHE

7 85 BARLOW

8 94HOLMES

9 02 KITCHENS

10 30 HORAN

RACE 2

1 85 BARLOW

2 01 FARMER

3 4 SCHRECK

4 14 SMYTHE

5 02 KITCHENS

6 129 SCHOOLEY

7 13 HOLLINGER

8 94 HOLMES

9 00 MILLER

OVERALL

1 01 FARMER

2 4 SCHRECK

3 85 BARLOW

3 129 (TIE WITH 85) PRESTON/SCHOOLEY

5 14 SMYTHE

6 13 HOLLINGER

7 00 MILLER

8 02 KITCHENS

9 94 HOLMES

10 30 HORAN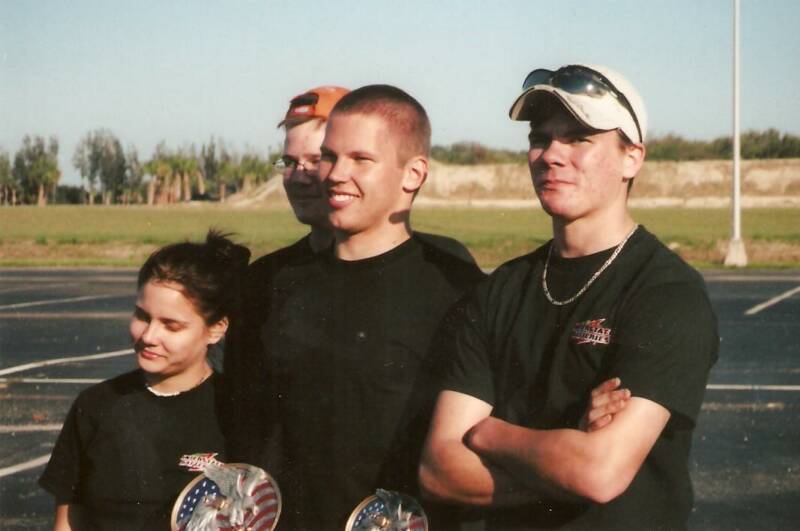 The drivers for the Milton High Panthers (l to R), Tiffany Miller #00, Kevin Farmer #01, and Bobby Kitchens #02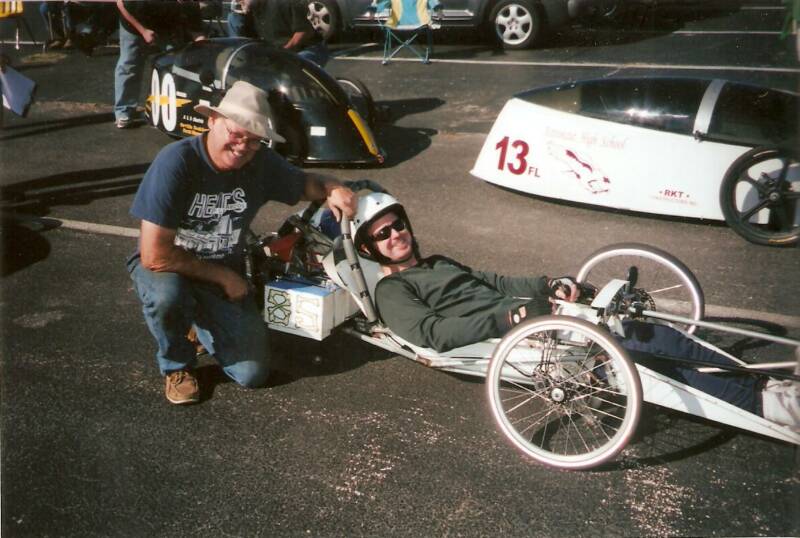 Dana and Lance Barlow with their entry "Rolling Thunder"